Queen visits Ruseifeh
Queen Rania spot checks school in Ruseifeh, meets with women leaders in community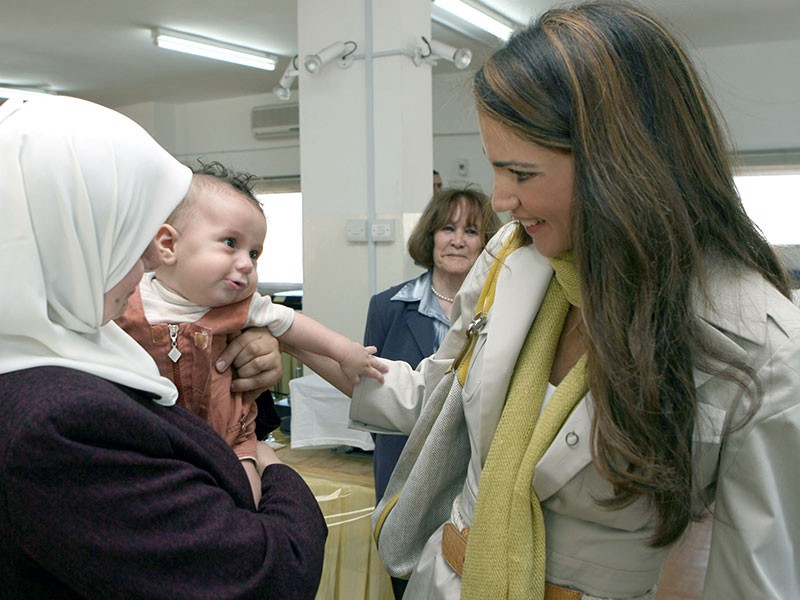 (Office of Her Majesty, Press Department - Ruseifeh) As Her Majesty Queen Rania Al Abdullah met with women and community volunteers in Ruseifeh, she paid a surprise visit to the Amr bin Al Aas Primary School where the deteriorating situation of the school caught the Queen's attention.
The school, which was featured in the news lately when a number of students were hospitalized after an intense bout of food poisoning, hosts nearly 200 students and suffers from poor infrastructure.
The second stop in a series of planned school visits since the start of the new academic year, the situation at the school has accelerated the Queen's momentum in pushing for more community involvement. "All of us are responsible for our children's education – for their future," said the Queen as she departed the campus, "in the past few years we have seen increased commitment from the private sector, but more is needed, and this is where the local community has a big role to play."
As a strong supporter of advancing educational opportunities for both students and teachers in Jordan, Queen Rania has visited numerous educational facilities around the Kingdom to support local needs.
Community involvement is what took the Queen to Ruseifeh. Her Majesty visited the headquarters of the Working Women's Society (WWS), which is one of the most active organizations in the governorate of Zarqa, to inaugurate the Working Women Entrepreneur Unit.
The new unit will help to build new businesses and improve existing small businesses and economic activities by providing funding, offering training and business advice, and disseminating business skills information.
The WWS is responsible for managing the Social Development and Family Guidance and Counseling Center where they offer training, capacity building and counseling for individuals and groups on legal and social issues for other women and young adolescents. The women also manage a sewing workshop and a Graphics and Printing Center, which together employ a dozen women. Many of the workshops take place in the multipurpose room of the center.
Queen Rania toured the facilities of the WWS, which also hosts a kindergarten that currently teaches 100 children.
Impressed with the positive effect the WWS has had since being founded 50 years ago, Queen Rania commended the members telling them, "You are the agents of positive change for this community. Your ideas set the stage for improving the local state of education, the state of health, and insure a bright future for your children."
Her Majesty also met with the youth of the newly established We Are All Jordan – Ruseifeh and encouraged them to volunteer their time and actively give back to their community. The We Are All Jordan Commission has one workgroup in each of the Kingdom's governorates where members strive to implement different projects that would empower Jordanian youth and benefit the communities in the governorates.


Queen Rania's official website
This website does not support old browsers. To view this website, Please upgrade your browser to IE 9 or greater
Your browser is out of date. It has known security flaws and may not display all features of this and other websites. Learn how to update your browser