Queen Rania visits microfinance projects, youth center, family center during visit to Marka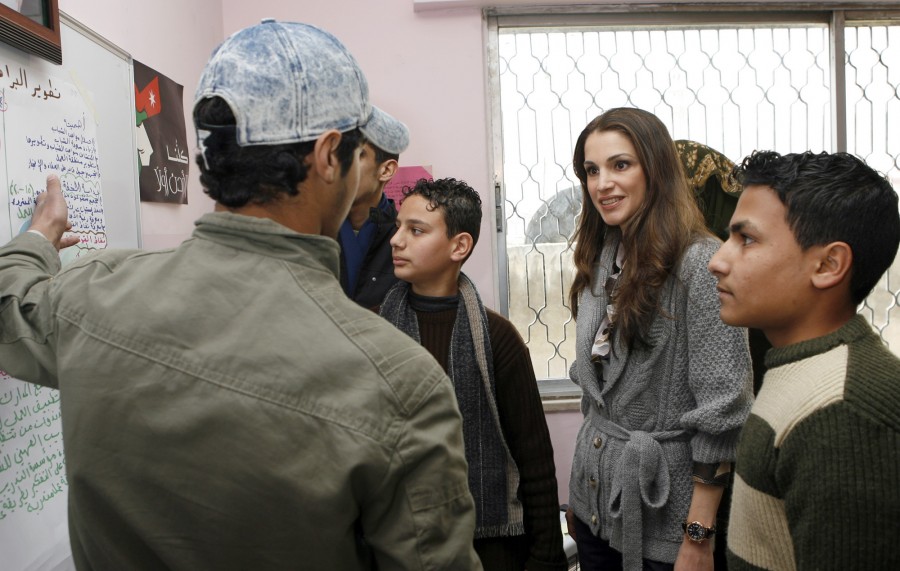 (Office of Her Majesty, Press Department – Marka) During a meeting with some of the Kingdom's top business women a few days ago, Her Majesty Queen Rania Al-Abdullah said, "Success breeds success." And on that note, she visited some micro-entrepreneurs in Marka, Wednesday, to see their successful projects first hand and encourage them to spread the seeds of their success to others in their community.
As Fathiyeh Sunokrot and her neighbors were rearranging her display of gypsum handicrafts outside her house, Queen Rania stopped by for a visit. Her Majesty learned about the project when Sunokrot, along with 33 other recipients, was awarded the Citigroup Global Micro-entrepreneurship Award in December.
Her Majesty said she was happy to see such successful stories highlighted. Sunokrot showed off her handiwork as her and her daughters detailed their path to success. The eldest of Sunokrot's daughters, who is sitting for her Tawjihi exams this year, is a vital part of the project, according to Sunokrot. Queen Rania asked the girl how she manages to balance between school work and helping out with her mother's project, and the girl said, "It's pretty challenging, but by organizing my work, I manage to get it done." Sunokrot also creates an assortment of bright, colorful flower arrangements out of dried flowers.
Sunokrot detailed the small, but successful, milestones that she has celebrated so far. Initially working with just two models, she now designs several different variations. Sunokrot creates the moulds herself. "It's been five years since I've started, and there are days it feels I'm just at the beginning," she said, "but as my business grows, I slowly expand to buy more material and tools and create a variety of products."
Three of Sunokrot's neighbors also joined Queen Rania and Sunokrot for a discussion on the benefits of micro-loans. The ladies all have a variety a microfinance projects. "My husband supports my project," said one of the neighbors, "it brings us extra income which makes a big difference in our lives."
Her Majesty also visited Ibrahem Kraishan's mini-market where, in addition to selling retail products, he produces medals and decorations for His Majesty King Abdullah II and the Royal Family. Kraishan received a micro-loan to improve the conditions of his mini-market which he is slowly expanding by adding new products. Kraishan has 12 children who help him run the store. The Queen noted how impressed she was at the initiative that citizens in Marka have shown in improving their own conditions.
And from successful micro-entrepreneurs to potential entrepreneurs and community leaders, Her Majesty visited a local community youth center. In partnering with INJAZ and the Jordan River Foundation, the center has begun administering workshops for the youth to assess the needs of their community, prioritize those needs, and come up with creative projects and programs to fulfill them.
The students seemed eager to share their plans with Her Majesty as they detailed for her how they came up with a number of projects. Only in their beginning phases, the students already understand the value of contacting members of the private sector to help fund their potential projects. "We will be splitting up the projects into two teams," said one of the female students, "one to plan the project, and the other to organize the funding by targeting public and private entities."
"What we need most," said one of the boys, "is to improve youth focused programs so that all the kids in our community can have something productive to do!"
The youth center is very proactive in providing different services for the community. It offers free courses and programs for the local youth including Tawjihi courses, computer training, first aid, arts and crafts, summer camps and field trips, as well as sports activities.
While touring the computer lab, INJAZ President Dima Bibi told Her Majesty that INJAZ is hoping to begin a joint venture with the Higher Council for Youth by introducing leadership and entrepreneurship workshops and programs in youth centers as an addition to their roles in schools. They will also be partnering up with leaders in technology for guidance on how to best use computers to expand their ideas into projects.
The youth center serves the Eastern Amman area and benefits 170 boys and 150 girls aged 12-22. The center is comprised of two multi-purpose halls, a computer lab with internet connections, a library, a sports room and the administration offices. This week, renovations began to improve the facility and ensure a conducive and safe environment for the youth.
While in Marka, Her Majesty also inaugurated the Al Wifak Family Shelter, which has recently been established by the Ministry of Social Development to provide protection services for domestically abused families. The shelter offers a day activity center and a shelter for domestically abused women and children and will start operation soon.
Amal Al-Azam, director of the shelter, briefed Her Majesty on confronting and overcoming some challenges when setting up the shelter. They collaborated with a number of local and international experts to benefit from studies and previous work in the field. They also began working with a number of families to mediate conflict, and provide support.
"I'm so happy to be here today and see everything you've accomplished because we've been talking about this project for a while and it is great to see it established," said the Queen.
After the briefing, Her Majesty toured the new facility which boasts bed rooms, counseling rooms, an exercise room, and a number of other amenities. The facility also has special children's rooms for counseling.
The facility is the first of its kind in the region. Al-Azam noted that it has been established to help families solve their problems, and at the same time protect the sanctity of the family unit by insolating from violence.


Queen Rania's official website
This website does not support old browsers. To view this website, Please upgrade your browser to IE 9 or greater
Your browser is out of date. It has known security flaws and may not display all features of this and other websites. Learn how to update your browser