Queen Rania returns to Ajloun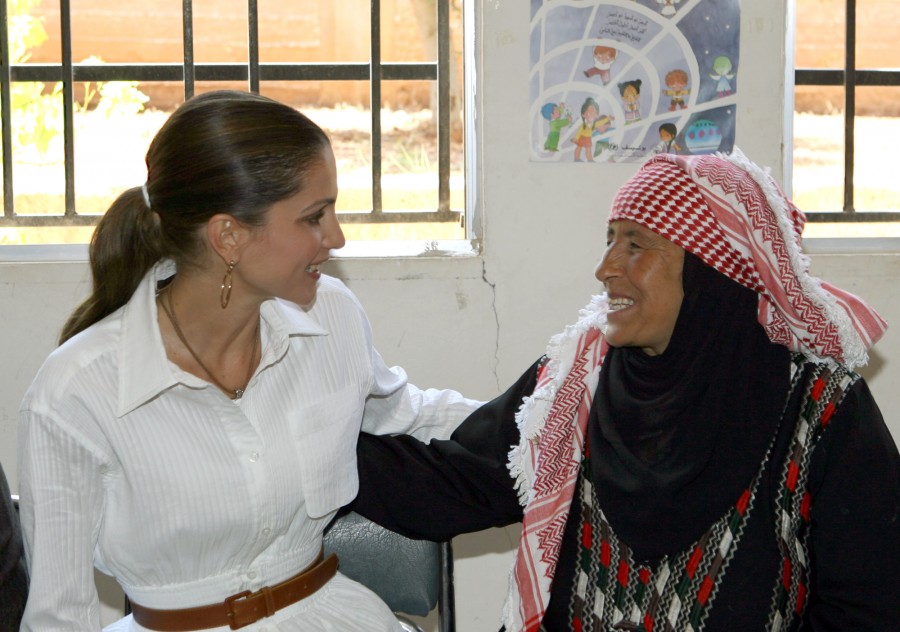 (Jordan Times - Ajloun) Her Majesty Queen Rania visited the village of Rasoon in the Ajloun Governorate, where she met with community members and checked on their needs.

During the visit, the Queen issued instructions to provide the village with some urgent requirements, including a laboratory to support the health centre, a power generator, street lighting and maintenance work on schools in the area.
The village's basic requirements were established at previous meetings between representatives of the Jordan River Foundation (JRF), chaired by Queen Rania, and members of the local community.

The JRF is nonprofit non-governmental organisation working to empower society, especially women and children, and improve living standards.

It was decided that the JRF would set up an agricultural cooperative society to provide farmers in the area with small loans to start small income-generating projects.

The JRF will also hold intensive training courses to raise awareness on the importance of cooperative societies and their role in serving local communities.

In addition, plans are under way to market the area as a tourist attraction and upgrade its services during a meeting with area residents.

Queen Rania reiterated the need to draw up a strategic plan to specify the area's long-term requirements, including the establishment of a cooperative society and a large complex to accommodate several facilities, such as a sports club, a health centre, a public library and a multipurpose hall.

The Queen told the local residents that the visit enabled her to get a firsthand idea about their needs, and to work out with them short and long-term solutions for the best interests of the area.

Community representatives briefed the Queen on their requirements, including agricultural and inner roads between villages in the area and improved public transport services.

In addition, they said an X-ray machine was needed for the dental clinic and a generator to cope with frequent power outages, which caused children's vaccines to become spoiled.

Several local women accompanied the Queen on a tour of the health centre where the staff briefed her on the immunisation programme for children.


Queen Rania's official website
This website does not support old browsers. To view this website, Please upgrade your browser to IE 9 or greater
Your browser is out of date. It has known security flaws and may not display all features of this and other websites. Learn how to update your browser