Queen Rania Receives University of Jordan Honorary Doctorate and Urges Students to Participate in New Initiative to Upgrade Schools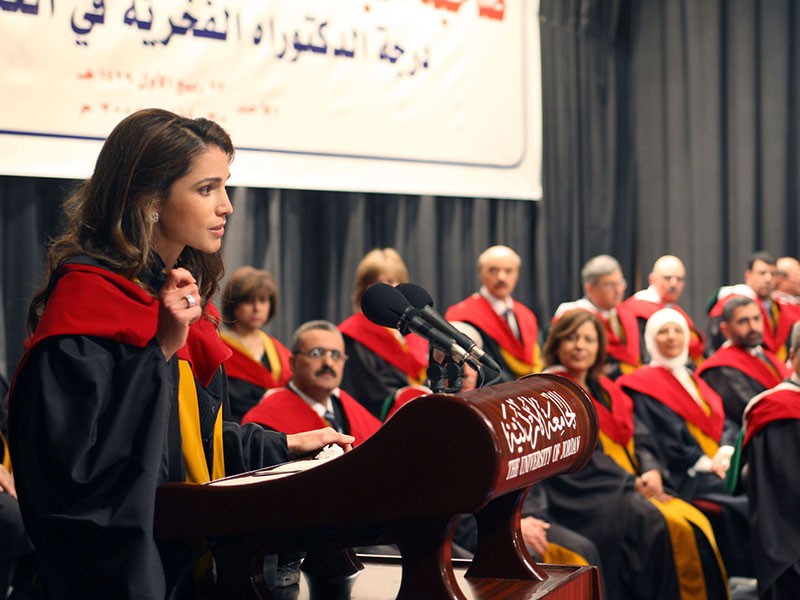 (Jordan Times - Amman) Her Majesty Queen Rania on Sunday urged young people to participate in shaping the country's future by contributing to a new Royal initiative that seeks to upgrade the Kingdom's schools.
Addressing 1,200 University of Jordan (UJ) students, professors and academics at a ceremony to grant her an honorary doctorate, the Queen urged the younger generation to rise to this responsibility.
"From here, from this pulpit, and in front of you - I pledge to do more. But I need your help, for I am stronger through others, I am stronger through you," she told the students.
"This vision requires a general Jordanian youth initiative that involves university students in particular," the Queen said, adding that she and His Majesty King Abdullah would launch the new initiative in a few days.
There are 500 schools in desperate need of basic infrastructure and repair, the Queen noted, underlining the importance of the new initiative, entitled "Madrasati", which seeks to make education a social responsibility.
She added that Madrasati is based on the principles of participation and partnership and relies on the help of private schools and companies to renovate public schools.
"We also need every Jordanian to help us create an environment capable of absorbing the energies of our children, building their personalities and fostering their talents," she said, underlining the importance of joint efforts.
"Madrasati is your school. It needs your work and determination to renovate its walls, decorate its classes, inspire its students, and to enable students to become an effective force in society - as you have become. I need you to give some of your time to develop our schools and provide safe environments for our children,'' the Queen told the gathering.
"We are all that Arab spirit that His Majesty, the late King Hussein called for, building on this soil some four decades ago, from your university. He called for 'a spirit that blends the light of right with that of knowledge'. Yes, we are one harmonious spirit, a nation in one body, one identity, one destiny, and each individual is a responsible politician for himself and for others," she reiterated, underlining the need to shoulder this responsibility.
"Building our future is a social responsibility that excludes nobody. It is your responsibility, and my responsibility. It is 'and' and not 'or'. It is the responsibility of every Jordanian so that none of us finds himself in a path that has already been set for him. If you - the educated, the graduates, the politicians - do not participate in improving society, who will? If we do not move now, then when will we?" she added.
The Queen told the audience about a young girl, who decided to play a role in the lives of others through voluntary work and kept reminding herself of a story that inspired her dedication.
"The story says that… a man saw a boy picking things off the beach and throwing them in the sea. The old man was surprised and went to ask him what he was doing. The boy said 'I am returning the starfish back to the water; it is nearly rising tide time.' The man replied, 'But son, the beach extends hundreds of miles, and millions of starfish have washed up on the shores by the tide. You will not be able to change all their destinies and return them to the sea.' Yet, the boy picked another starfish and threw it into the sea, challenging the man, as he said: 'But I have changed the destiny of this one'," the Queen concluded, reiterating that "the destiny of Jordan is in the hands of Jordanians".
"Each one of us has a role to play, and each one of us is a light that will illuminate when other lights fade. And if each one of us changes the destiny of one star, we will illuminate the whole nation with light and rays,'' Queen Rania said.
At the beginning of the ceremony, UJ President Khaled Karaki awarded Queen Rania an honorary doctorate in educational sciences, in appreciation of her efforts in this field.
Highlighting the Queen's achievements, Karaki referred to her contributions to child protection, youth support and women-empowering programmes, in addition to her visits to international universities to advance the education sector and support Jordanian teachers' training programmes.
Established in 1962, the first university in Jordan currently has 38,690 students, pursuing undergraduate, graduate and postgraduate studies, in addition to 2,788 non-Jordanian students.
Jordan Times, Monday, March 31, 2008


Queen Rania's official website
This website does not support old browsers. To view this website, Please upgrade your browser to IE 9 or greater
Your browser is out of date. It has known security flaws and may not display all features of this and other websites. Learn how to update your browser