Queen Rania meets with MAJ to support coordination among microfinance institutions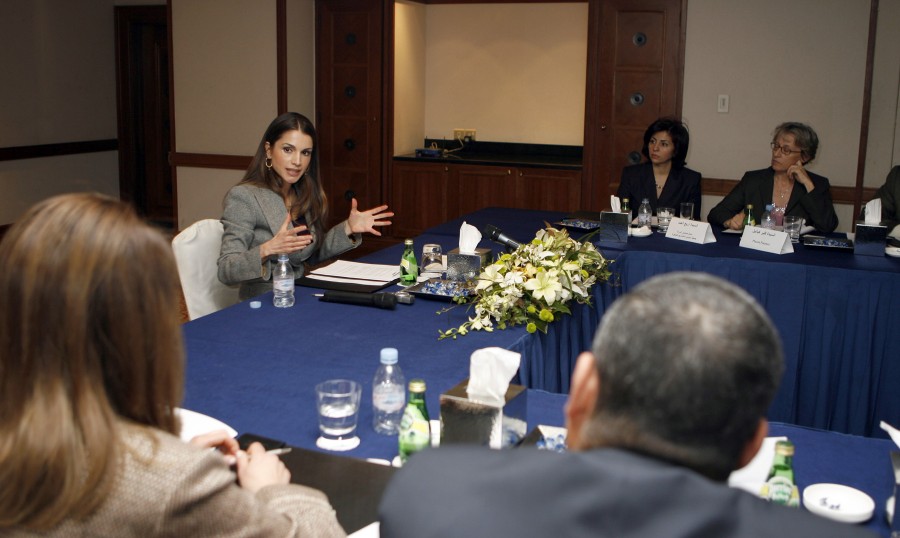 (Office of Her Majesty, Press Department– Amman) The domino effect of microfinance has been improving the quality of life for Jordanian citizens across the Kingdom thanks to the services provided by the numerous microfinance institutions here. While these institutions may be competitors, their common link is that they all recognize the value of the service they are providing for their clients; and, in that spirit the Microfinance Association of Jordan (MAJ) and the Ministry of Planning and International Cooperation met, on Tuesday, with Her Majesty Queen Rania Al Abdullah to discuss ways in which to unify their strategy and direction in order to maximize their outreach.
"His Majesty has always stressed that his priority for the nation is to battle poverty and, as microfinance institutions, you all play a huge and valuable role in alleviating poverty," said the Queen.
As a member of the board of several international microfinance promoting organizations like FINCA (Foundation for International Community Assistance), Queen Rania has advocated for the use microfinance as a tool to empower underprivileged communities. Her Majesty has joined local organizations and microfinance institutions in highlighting a number of microfinance success stories recently.
To expand the outreach and impact of microfinance further, Her Majesty met with MAJ; Suhair Al-Ali, Minister of Planning and International Cooperation; and other representatives of the ministry, to hear from members what is needed and suggest to them ways to further extend their effect and nurture the micro-entrepreneurial spirit in the Kingdom.
"I've supported microfinance since the beginning… today everyone knows the positive impacts of microfinance… it improves women's financial capabilities, it creates hope and opportunity for youth, and it is a way to break the cycle of poverty for many families," said Queen Rania.
As members of MAJ each outlined the various challenges they faced including reaching out to disenfranchised communities and demonstrating the potential effects of microfinance to those communities, Her Majesty encouraged them, saying, "The number of players on the field is increasing and that's a good sign. Step by step we'll overcome these challenges together."
MAJ was created in 2002 to develop the national microfinance industry and promote the best practices in microfinance. Last year MAJ signed an agreement with Planet Finance, a French based institution, to develop a web portal to help them achieve that effect.
During the meeting Her Majesty launched the website virtually with the click of a wireless mouse as Clair Cabanel, the Executive Director of Planet Finance in the Middle East/ North Africa region, spoke of the importance of the website in facilitating knowledge exchange between the various institutions.
Her Majesty has contributed an editorial which will be featured on the website advocating microfinance as a poverty alleviation tool.
Each microfinance institution has access to the back-end of the website and can regularly update its profile. According to Cabanel, the portal will provide national and international visibility and transparency for the microfinance sector, donors and beneficiaries.
Planet Finance is also conducting a study on the impact of microfinance in Jordan and the capacity building of microfinance institutions.
"We're all partners, even though there is competition among your institutions—which is good and I encourage the diversity—and by unifying your voice and your strategy, you can definitely maximize the positive effects of microfinance," said the Queen.
Al-Ali expressed the ministry's support of MAJ, as an umbrella organization for local microfinance institutions, once they complete a unified strategy and action plan.
"This sector is so important to me," said Queen Rania, "and I'm ready to meet with you when you need my guidance to help champion this cause."


Queen Rania's official website
This website does not support old browsers. To view this website, Please upgrade your browser to IE 9 or greater
Your browser is out of date. It has known security flaws and may not display all features of this and other websites. Learn how to update your browser