Queen Rania connects with local community in Hashmiyah, while checking on JRF progress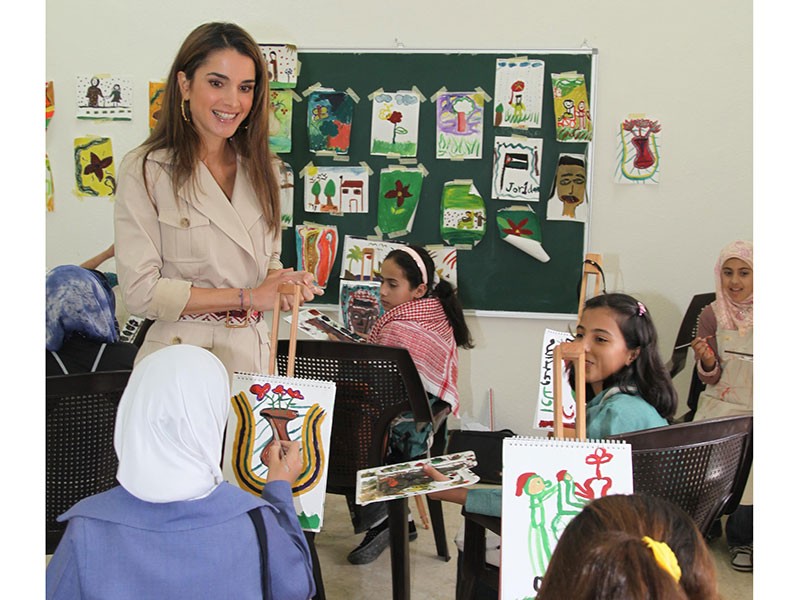 (Office of Her Majesty, Press Department- Amman) Her Majesty Queen Rania Al Abdullah, today, visited Hashmiyah in the Governorate of Zarqa to meet with the local community and recognize the success of community empowerment initiatives implemented by the Jordan River Foundation (JRF).
Funded by the Ministry of Planning and International Cooperation, The Local Development Program for Less-Privileged Areas, focuses on principles of engagement, empowerment, sustainability and economic opportunity to raise standards of living in Hashmiyah.
Accompanied by Minister of Planning and International Cooperation Suhair Al-Ali and JRF Director General Valentina Qussisiya, Queen Rania inspected JRF's local projects which are benefiting the community while protecting vulnerable groups such as youth and the disabled.
During the visit, Queen Rania listened in as volunteers conducted a training session with families of disabled children, extending support and resources needed by mothers entrusted with providing care to a disabled member of the family.
Touring the Al Hashmiyah Health Center, which was recently equipped with blood testing devices, Her Majesty was briefed by the Head Doctor Mohammad Wiled Ali on the requirements emerged from a need-based assessment conducted by JRF.
In addition, Her Majesty participated in an awareness session focused on reproductive health, attended by 15 mothers from the local community.
At the Hasmiyeh Child Creativity Center, Her Majesty Queen Rania then engaged with students in a series of drawing activities held by local youth volunteers just before visiting the centre's computer room where she joined another group of mothers taking part in a computer literacy class. In the Centre's art room, Her Majesty also connected with young children who were proud to show off their creative talent.
Queen Rania's visit to Hashmiyah comes a week before the "Urban Village," established upon His Majesty's directives in 2007, launches an 'open day' in collaboration with the Municipality of Hashimiyat Al Zarqa. During the upcoming event, all segments of society including the elderly and the disabled will have the possibility to take part in different games and activities organized by local youth within the village's recreational area.
During the visit, Her Majesty also toured an exhibit, where community members showcased a range of products which included local handicrafts, handmade garments and traditional food products. Queen Rania observed the benefits reaped from the revolving loan projects which promote self-reliance and assist families to initiate small-scale micro-enterprises. The total number of community members benefiting from the revolving loan program has reached 48 borrowers of which 35 are males and 13 female.
Additional projects implemented by JRF in Hashmiyah include infrastructure projects which support maintenance and rehabilitation of clubs, stadiums and public schools in the area. Furthermore, JRF provides assistance to the Hasmiyat Al Zarqa Cooperative Association which was founded in April 2009 through the local development program.


Queen Rania's official website
This website does not support old browsers. To view this website, Please upgrade your browser to IE 9 or greater
Your browser is out of date. It has known security flaws and may not display all features of this and other websites. Learn how to update your browser