Queen Rania co-chairs launch of Village Banking Campaign, brings FINCA International to Jordan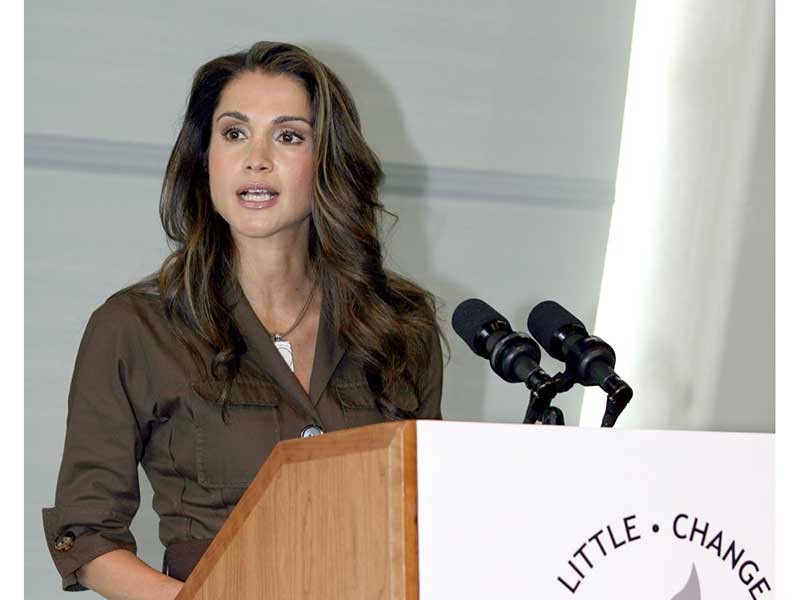 (Office of Her Majesty, Press Department – New York) Her Majesty Queen Rania Al-Abdullah co-chaired the launch of the Village Banking Campaign where FINCA International (the Foundation for International Community Assistance), announced it would bring its considerable microfinance expertise and resources to Jordan and the broader Middle East. International insurance giant AIG (American International Group, Inc.) pledged its support to expand micro-insurance products through a $1.5 million grant.
Announcement of the campaign was made during an event at New York University in the presence of Her Majesty Queen Rania Al-Abdullah, who co-chairs the campaign and its prestigious steering committee with FINCA International Ambassador of Hope Natalie Portman. His Royal Highnesses Prince Zeid bin Raad, Jordan's Ambassador to the United States, and Princess Sara Zeid were also in attendance, along with a number of students from public and private universities in the New York area who are affiliated with microfinance.
Queen Rania, who is a long-time supporter of microfinance and member of FINCA International's Board of Directors, said, "I know that creating opportunity in my region is not an option; it is a necessity…[and] it is clear that programs like FINCA can help lay a firm foundation – for employment and empowerment and self confidence and hope."
The Village Banking Campaign's goals are to operate 100,000 Village Banks, serving those living on less than $2 a day, annually by 2010. Reaching this goal will allow all of FINCA's subsidiaries on four continents to be financially self-sustaining, unlocking capital markets, and expanding outreach to millions more people.
Queen Rania spoke of why such programs are so essential. "To my mind, microfinance is both a sound and a smart investment – not only in lifting the lives of the working poor, but in stitching together the fragile, fraying seams of our troubled world," she said.
Her Majesty also spoke of some of the success stories she has seen during her visits to microfinance beneficiaries in Jordan, Kosovo, and Mexico over the years
"I know there are resourceful women and men across the Arab world who are eager to start small businesses of their own – if only someone gives them a chance," she said as she highlighted some of the many success stories she has seen across Jordan including that of Abeer Mustafa Mohammad, a micro-entrepreneur who launched a natural cosmetics business from her home and is now employing more than a dozen people in her community.
Expressing her pride that FINCA Jordan will soon be opening its doors, Queen Rania spoke about the need to give Jordanians the promising future they deserve. "While the solution to that 'macro-challenge' can not be microfinance alone, it is clear that programs like FINCA can help lay a firm foundation for employment, and empowerment, and self confidence, and hope," she said.
Village Banking is a unique and transparent method of microfinance that puts small loans as small as $50 in the hands of very poor families through community financial associations in which loans are guaranteed by the recipients themselves. More than 91 cents of every dollar donated to FINCA goes directly to loan capital, and approximately 97-percent of loans are repaid, an extremely high figure compared to commercial loans, and one of the highest repayment rates in the industry.
Village Banking Campaign Co-chair Natalie Portman has produced a documentary about FINCA's work in Mexico with Sundance Film Festival Grand Jury Prize-winning documentary director Juan Carlos Rulfo. FINCA will premier the documentary and other content on the Village Banking Campaign's MySpace page, found at www.myspace/villagebanking.com
FINCA Expansion in Middle East to Deliver Best Practices
The Campaign's goals also include expanding into new regions including the Greater Middle East and Asia. As the first step toward that expansion, FINCA announced its entry into Jordan, extending the delivery of the organization's best practices to a region still in its infancy within the microfinance community, but one that is currently outpacing outreach in Central Asia and Eastern Europe.
Executive Director Rupert Scofield said," Our commitment in opening a microfinance program in Jordan is to introduce a broad array of products and services that will be rooted in the needs and regional customs of the people of Jordan. We bring more than two decades of best practices and technical assistance to this fledgling program, and are excited about introducing new products and strategic alliances to the country."
AIG Grant Helps Build More Secure Future for Families
For the past 10 years, FINCA and AIGs groundbreaking strategic alliance has provided the working poor with a range of insurance products which reduces their vulnerability to economic shocks such as risks from natural disasters; loss of income due to injury, life-threatening illness and death of the main income provider; and the destruction or loss of business assets, which threaten to push them back into poverty. This additional $1.5 million grant from AIG will enhance FINCA's capacity to offer a wider range of microinsurance products to an increasing number of the world's working poor so that, for the first time, they have access to a safety net.
Martin Sullivan, AIG president and chief executive officer, said, "The world's poorest people face daunting challenges. Over the past decade, FINCA and AIG have pioneered the development of microinsurance products that provide security never before available to some of the world's most vulnerable people. Together, we want to broaden the reach of these innovative products through the Village Banking Campaign."
The AIG grant also provides for education training for Village Banking staff and clients to ensure microinsurance clients are properly prepared to grow their businesses, and strengthen the Village Banks' institutional risk management programs to help the Campaign meet its goals.
###
About the Village Banking Campaign
Co-chairs
Her Majesty Queen Rania Al-Abdullah of the Hashemite Kingdom of Jordan, FINCA International Board Member
Natalie Portman, FINCA Ambassador of Hope

Steering Committee
Lisa Caputo, President, Women & Company
Ned Cloonan, Vice President, AIG
John Elkins, Executive Vice President, Visa International
Francis Fukuyama, Ph.D., Director of International Development Programs, The Paul H. Nitze School of Advanced International Studies, The Johns Hopkins University
Richard Plepler, Executive Vice President, HBO
Jeffrey Sachs, Director, Earth Institute at Columbia University

Information about the Village Banking Campaign can be found at www.villagebanking.org and on MySpace at:www.myspace.com/villagebanking.com
About FINCA International
FINCA is a leading international microfinance organization that provides financial services to the world's lowest-income entrepreneurs, helping them to create jobs, build assets and improve their standard of living. For more than twenty years, FINCA has been committed to breaking the cycle of poverty by providing community-based credit and savings opportunities. Currently, FINCA operates with a distinctive, integrated business model that accepts donations and investment dollars, an approach that leverages available capital and promotes greater transparency, sustainability and higher standards of business practices. This has allowed FINCA to achieve balanced financial and social performance unmatched in its industry while opening the path to socio-economic development for the lowest-income citizens of the world. Based in Washington DC with local operations on four continents, serving more than 500,000 clients, FINCA's outreach is among the broadest and most comprehensive of today's microfinance networks.


Queen Rania's official website
This website does not support old browsers. To view this website, Please upgrade your browser to IE 9 or greater
Your browser is out of date. It has known security flaws and may not display all features of this and other websites. Learn how to update your browser