Queen Rania Launches Teacher Education at the Crossroads Conference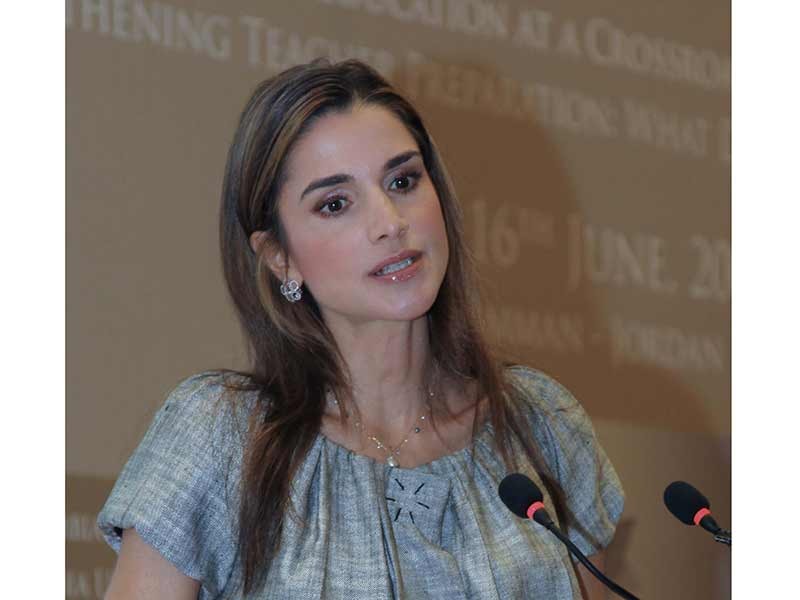 (Office of Her Majesty, Press Department - Amman) Her Majesty Queen Rania Al Abdullah on Monday reiterated the commitment to enhance professional development for teachers during the first Teacher Education at the Crossroads Conference supported by Columbia University's Teachers' College (TC) and the World Bank.
Following the inauguration of the Queen Rania Teachers' Academy (QRTA) yesterday, the conference represents a cardinal step to enhance quality education in the region by leveraging the expertise of local and regional partners to create a pool of world class educators.
"Teachers are pivotal to the prosperity and promise of our families, our country and our region. And beyond teaching history, science or languages, teachers guide our children, shaping the attitudes, skills, and values they will use in the world beyond the classroom," affirmed Her Majesty in a keynote address at the opening of the two-day conference attended by 170 regional and international participants.
Calling for a regional transformation to set forth a culture of excellence among youth, Queen Rania stressed the need to upgrade local expertise, equip students to thrive in the global job market and reform outdated school curricula.
"We are ready to work with our neighbors and partners to find solutions. So let's join together and invest in our teachers, so our children believe they can be anything they want," added Her Majesty.
Queen Rania also commended teachers for their efforts to transform the lives of their students, reminding us of their crucial responsibility to inspire and instill a love of learning, noting that "a good teacher will help you pass your exam, but a great teacher will help you surpass yourself."
In the face of the many challenges still plaguing the Arab region, not least of which a lack of adequate incentives needed to motivate youth, Her Majesty reassuringly affirmed that: "Jordan is ready to help lead this transformation."
Also at the conference, gathering high-level regional and international policymakers, H.E Walid Maani, Minister of Education expressed the need to provide a holistic approach to teachers' training and educational reform across the Kingdom.
"More than ever today, education quality is the key solution to overcome economic and social challenges facing the region," commented Dr. Steen Lau Jorgensen, Director of Human Development Department at the World Bank.
In addition, Susan Furhman President of the Teachers' College at Columbia University stated the conference provides an ideal platform to exchange knowledge, share experiences and provide practical solutions to further develop the education sector in Jordan and the region.
"We all share a commitment to ensure our children have the opportunity to learn to the best of their abilities," concluded Susan Furhman.


Queen Rania's official website
This website does not support old browsers. To view this website, Please upgrade your browser to IE 9 or greater
Your browser is out of date. It has known security flaws and may not display all features of this and other websites. Learn how to update your browser