Japan welcomes Queen Rania's outreach and respect for Japanese culture and traditions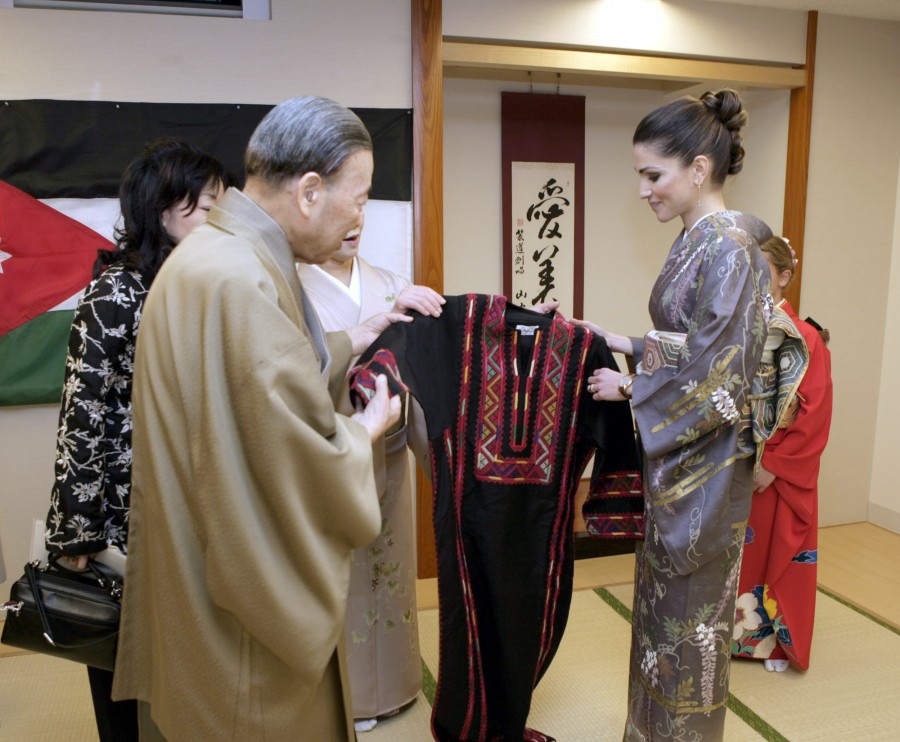 (Office of Her Majesty, Press Department- Tokyo) Her Majesty Queen Rania Al-Abdullah has often spoken of the similarities between people everywhere; she has also stressed the value of a genuine understanding of different cultures and embracing the differences that make each culture unique, which was the focus of her activities in Tokyo this week.
At a recent event in Deauville, France, Queen Rania noted, "Putting ourselves in another woman's shoes and viewing the world from her vantage point enhances our ability to empathize, compromise, collaborate, and move forward together."
During her visit to Tokyo this week, Queen Rania literally stepped out of her own shoes and into a traditional Japanese kimono to familiarize herself with the ancient kimono wearing ceremony.
Princess Iman, 10, accompanied Her Majesty on a visit to the Sodo Kimono School, Friday, where Akie Abe, wife of the Prime Minister of Japan, joined them. They observed a class in session where a number of women were learning the intricate details of kimono wearing and receiving etiquette lessons.
Norio Yamanaka, Chairman of the academy, welcomed Her Majesty and said, "Today, I feel deeply honored that I have been given the opportunity to help you experience the Japanese kimono, a garment deeply rooted in Japan's spiritual culture."
Queen Rania also presented the chairman with a thoub, the traditional Jordanian dress and noted that like the kimono's significance, the thoub is a very important part of Jordanian culture.
Although the thoub and the kimono bear no resemblance at first glance, the two have some distinctive elements that are very similar: there are those which are reserved for every day use and others which are made for special occasions. In both the thoub and the kimono, the colors differ depending on the intended use.
Although the histories of Japan and Jordan do not have much in common, some cultural parallels, such as the significance of traditional dress, do exist. Chairman Yamanaka said, "I hope that the wisdom of the kimono will become a bridge of understanding between our countries."
After the event, Her Majesty visited Abe at her home where they discussed the importance of highlighting women's issues such as increasing women's participation in the workforce.

Also, during a moderated discussion, Thursday, with top women business leaders and members of parliament, Queen Rania noted that another cultural parallel between Japan and Jordan is the issue of women's participation in the workforce.
"Although there are many cultural differences, women share the same concerns, challenges, and aspirations," said Queen Rania.
There is gender parity in education in both Japan and Jordan, but those numbers do not translate into the workforce. "Women's leadership is important because women make up half the population," said the Queen, "and empowering women is important for the sake of the whole country."
The business leaders told Her Majesty that although women's participation in the workforce and in politics has come a long way, there is still a need for more active participation. One reason, they suggested, is that there is no institutionalized support system for new mothers although the legal framework does exist.
Queen Rania, herself a working mother of four, noted that in Jordan women are very lucky because the extended family unit serves as a solid support base.
They also discussed some of Queen Rania's projects including the Jordan River Foundation's Community Empowerment Projects and a variety of microfinance initiatives which Her Majesty supports. "Microfinance helps unlock the productive capacities of millions around the world by giving them the means to turn a good idea into a job," said Queen Rania, "It's especially effective for women, who make up the majority of the world's poor and have demonstrated high repayment rates."
Empowering women is about education and changing mindsets, said the Queen.
The business leaders expressed a keen interest in establishing ties with Jordanian women business leaders to exchange expertise and ideas about how to further improve women's participation in both countries.


Queen Rania's official website
This website does not support old browsers. To view this website, Please upgrade your browser to IE 9 or greater
Your browser is out of date. It has known security flaws and may not display all features of this and other websites. Learn how to update your browser