Wednesday, August 11, 2010
Queen Rania Meets with Al Aman Fund beneficiaries and visits one of them at his job at Zain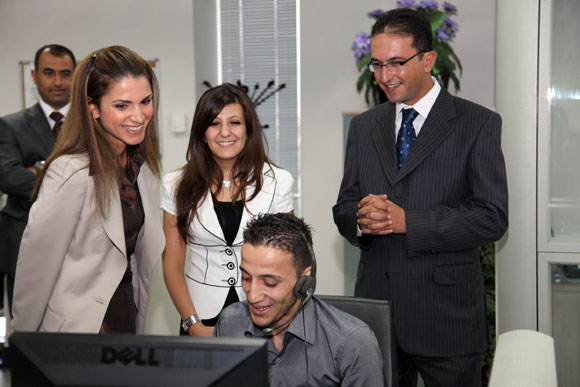 (Office of Her Majesty, Press Department- Amman) - Her Majesty Queen Rania met today with a group of seven young beneficiaries from Al Aman Fund who represent a small number of the many success stories that have come out of the Fund's scholarship programs. Some of the group members, ages between 19 and 26, are still pursuing university degrees while others have already graduated.
During the meeting, the beneficiaries thanked Her Majesty for Her continuous support of orphans across the country and for Their Majesties' kind gesture towards insuring a sustainable and independent future for orphans after the legal age of 18, through Al Aman Fund.
Their Majesties King Abdullah II and Queen Rania had pledged yesterday to cover the cost of post secondary education for 200 eligible orphans from the Aman Fund. The 200 students are part of 620 orphans currently receiving Al Aman Fund scholarships, which cover the students' tuition and costs of living.
The beneficiaries also thanked Her Majesty for Her op-ed piece that was widely published yesterday, which launched a campaign to raise awareness about Al Aman Fund, and the importance of post secondary education for all orphans in the country.
In a frank discussion with the beneficiaries Her Majesty asked the orphans about the problems and issues they faced. Most of the group agreed that certain social and societal situations that they were not exposed to in their foster homes or care centers were particularly uncomfortable for them. One beneficiary even gave the example of weddings as a setting he was uncomfortable in, having never attended one prior to leaving his foster home.
Her Majesty recommended that as part of the counseling that Al Aman Fund offers there should be specific workshops, ones that tackle such issues to ease the beneficiaries' transition into society and to hone their social etiquette and societal skills, ones that they hadn't been exposed to during their years in foster care.
Speaking about the Fund, one of the girls said it offered her opportunities to increase her income through different schemes, connections and opportunities that the Fund exposed her to. Another beneficiary said the Fund provided them with a "light at the end of the tunnel" after his family problems rendered him "hopeless".
Her Majesty expressed to the beneficiaries Her pride and joy in what they have accomplished in the face of all difficulties, and stressed to the attendees that hope should never be lost, and that they represent a role model for all those who are in the same situ