Tuesday, October 19, 2010
Queen Rania Honors "Healthy Schools"; Minister of Education stresses importance of teachers' participation in all facets of society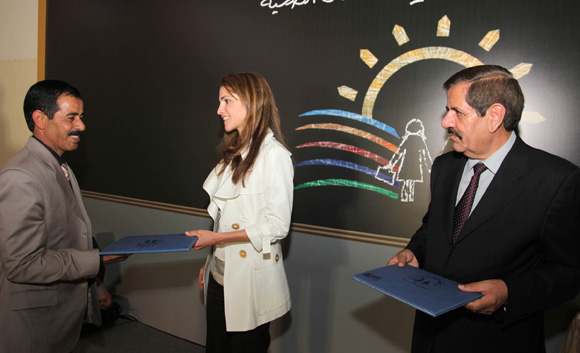 (Office of Her Majesty, Press Department- Amman) – Queen Rania honored several schools that have achieved a "healthy school" rating under the Healthy Schools Accreditation Program designed by the Royal Health Awareness Society (RHAS). Her Majesty gave out certificates to the 49 honored schools, at a special ceremony held at the Madaba Secondary School for Girls.
A healthy school environment is at the top of the Royal Health Awareness Society's agenda, which was founded by Her Majesty Queen Rania Al Abdullah in 2005. The Healthy Schools Accreditation Program was adopted by RHAS in partnership with Jordanian Ministry of Health and Ministry of Education as a national program to accredit schools which succeed to implement the national schools health standards.
Minister of Education, Dr. Khaled Al Karaki, thanked Their Majesties King Abdullah II Queen Rania for Their continued and unwavering support of the education sector in Jordan, especially to both the students and teachers of Jordan. Several of the honored schools are part of Her Majesty's Madrasati initiative.
Dr. Al Karaki also highlighted the important and effective role that teachers play in both the school environment and society at large; a vital role that stems from the teachers' influence in shaping the knowledge base and thinking skills of future generations.
In the context of the upcoming elections, Dr. Al Karaki stressed the importance of teachers' civil engagement as Jordanians head towards exercising their constitutional voting right, encouraging teachers to vote and make their voices heard through the democratic process, adding that a hundred thousand teachers is not a segment of the electoral that should be underestimated.
The Healthy Schools Program introduces standards for healthy school environments, thus encouraging the idea of developing healthy lifestyles and eating habits in order to prepare children and adolescents for healthy adulthood.
A set of health standards were designed by RHAS, including nine sections which cover different areas of a school's health environment and their related performance indicators. The National School Health Standards (NSHS) were evaluated by World Health Organization and approved in June 2007.
The standards include: leadership and management, school environment and health safety, health awareness, effectiveness of the workers and teachers in school, community participation, the health services provided to students, counseling services and psychological health, sports, and nutritio