Monday, March 4, 2013
Queen Rania attends final session of the Post-2015 Development Priorities for the Arab World Regional Workshop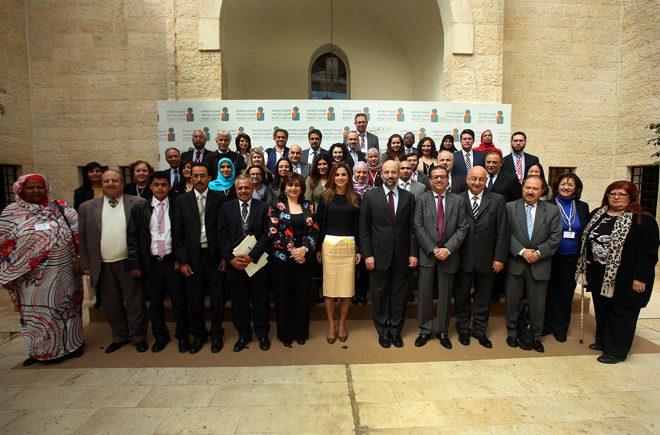 (Office of Her Majesty, Press Department, Amman) Her Majesty Queen Rania Al Abdullah attended today the closing session of the two day regional workshop on the Post-2015 Development Priorities for the Arab World, and urged for such important gatherings to be held annually.
"The results of these sessions and the unified vision we come to should be formulated in a way that encourages countries and all their components to adopt them," Queen Rania told the attendees who included leaders from civil society, academic institutions and research institutes from various Arab countries.
Her Majesty also stressed the importance of enhancing trust between citizens, governments and civil society institutions in the Arab world, pointing out the need to better understand regional development priorities and approaches in order to reach a unified vision and goals for all these groups.
"To enrich the national dialogue, it must be built on facts and measurable indicators," Her Majesty added.
Queen Rania, who is a member of the U.N. High-Level Panel (HLP) on Post-2015 Development Agenda, also said that such meetings should be held annually and convene representatives from the civil society institutions, the private sector, and governments as "they are an opportunity to spread our vision, evaluate our progress and modify our course according to new priorities that may arise."
The two- day regional workshop which was held to discuss the main development challenges and priorities of the Arab World is hosted by the United Nations Foundation in partnership with the King Abdullah Fund for Development (KAFD) and in cooperation with University of Jordan's Center for Strategic Studies and the Columbia University Middle East Research Center (CUMERC).
Dr. Omar Razzaz, Chairman of (KAFD), presented a summary of the main ideas and themes that have been raised in the sessions. He explained that the priorities in the Arab world are very similar to the global ones, adding: "Although our priorities are similar, challenges that face the Arab world have their own characteristics when it comes to the development module, sustainability, citizen participation and governance."
Dr. Razzaz also added that participants agreed that Arab countries have focused on quantitative rather than qualitative indicators.
Assistant Secretary-General of the United Nations and Regional Director of the Bureau for Arab States of UNDP Dr. Sima Bahous thanked Her Majesty for her efforts in bringing together the participants from across the Arab world to be part of this workshop to ensure that their voices are heard by policy makers pertaining to Post-2015 development priorities.
"The dialogue was really rich and transparent," Bahous said. She also stressed the important role traditional and soci