Wednesday, December 8, 2010
Her Majesty Queen Rania visits JRF projects in Kufranjah, Ajloun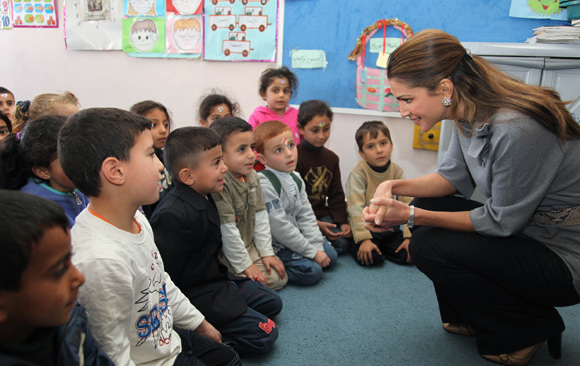 (Office of Her Majesty, Press Department – Amman) Her Majesty Queen Rania Al Abdullah visited the Kufranjah district in the Governorate of Ajloun today to inspect and follow up on Jordan River Foundation (JRF) programs in the area. The visit also included a Madrasati School, a health center and an olive farm and processing plant.
During Her visit to the Khawlah Bint Al Azwar Elementary Mixed School, one of the Madrasati Phase II schools, Her Majesty was briefed by a teacher and mothers from the local community about the different training programs that they participated in. Administered by JRF, the programs are focused on training the local community on establishing and sustaining income generating projects in the area. At the school Her Majesty was received by the school Principal, Ms. Eman Ennab.
Queen Rania was also updated on the work that will be done in the school to become a "green school" by a representative from Terra Vertis Company.
Following the school visit, Queen Rania visited an olive farm in the area, where she met with the workers in the fields. Her Majesty inquired about the workers conditions and the importance of the olive season to the area. The farmers gave the Queen a very warm welcome, cheering Her and thanking Her for visiting them and checking up on them.
Her Majesty also visited the olive press factory that operates under Kufranjah Cooperative, where She was received by the Ajloun Governor, Mr. Faisal Al Qadi, and Vice president of JRF, Mr. Ghaleb Al Qudah.
In the factory's courtyard, Her Majesty met with heads of municipalities and cooperatives in the area, and beneficiaries from different programs and trainings given by JRF.
Her Majesty conveyed to the local community His Majesty King Abdullah II's warm wishes, and expressed Her joy and pride in the work that is being done. The Queen stressed the importance of developing the olive industry in the area, famous for its olives, and encouraged the local community to further develop the industry with the help of JRF through community income generating projects, that build bridges between the different stakeholders in the region.
Her Majesty also complimented the local community's drive, ambition and determination to bring about positive change for themselves and their families, saying: "Homegrown solutions and projects are the most beneficial and sustainable".
The Kufranjah cooperative was established in 2004 as part of the rural clusters development program by JRF. The cooperative has 116 members, of which 46 are women.
The olive press factory targets farm owners in the Ajloun governorate, specifically the Kufranjah district in.
The establishment of the factory was funded by the Ministry of Planning and International Cooperation through Qudorat program and the Spanish organization, RESCATE.
The Qudurat program was launched by the Ministry of Planning as a part of its socio-economic productivity program which aims at raising the productivity of local community members across the Kingdom.