Tuesday, June 28, 2011
Her Majesty Queen Rania Al Abdullah meets with QRAEE winners
Stresses the pivotal role teachers play in the educational process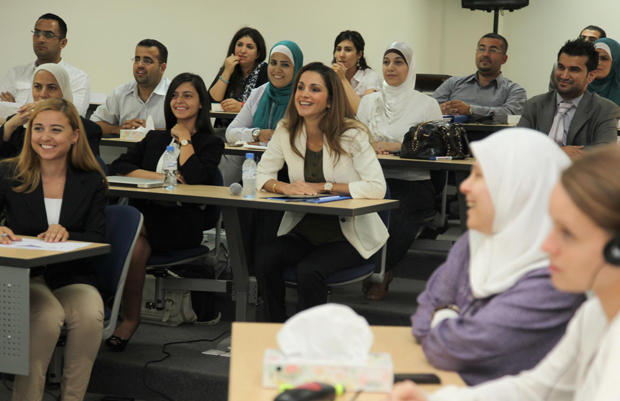 (Office of Her Majesty, Press Department- Amman) – Her Majesty Queen Rania Al Abdullah met with a group of thirty past winners of the Queen Rania Teachers Award for Excellence in Education (QRAEE). The meeting, held at the Queen Rania Teachers Academy (QRTA) focused on the role of QRAEE in honoring educators, uplifting their morale and motivating educators to excel in their field.
The teachers shared with Her Majesty their success stories and the effect the award has had on their professional and educational development. One teacher explained that receiving the award did not only have an effect on her professional career, it had an expanding impact on her students, fellow teachers and the school community as a whole.
Another winner talked about her ongoing motivation and passion for education, stemming from the nurturing environment the award offers, adding that she felt adopted and cared for by the award that continued to follow up with her and on the progress she's achieving.
Queen Rania praised the teachers for their devotion, stressing the important and pivotal role teachers play in the educational process, calling them a pillar of a successful educational system. The Queen heard from the teachers about the challenges they faced to get to this point, and thanked them for their determination towards self improvement despite all the obstacles they faced.
Her Majesty noted that "appreciation and respect are earned and cannot be forced, and education is a partnership that is built on the teacher's ability to earn his pupils' respect and trust".
She also heard from the teachers about the different techniques and skills that they adopt in their classroom that set them apart and made them candidates for the award in the first place.
The teachers thanked Her Majesty for Her devotion to improving the level of education in the Kingdom with initiatives such as QRAEE, QRTA and Madrasati. They said they admired Her Majesty for Her commitment and passion, and endless work towards that goal.
The QRAEE ceremony is held on an annual basis under the patronage of Her Majesty. To date, 145 teachers and seven principals have received the award. It aims to motivate teachers through workshops, training courses and conferences; academic development through providing BA and masters scholarships in coordination with Jordan University, Yarmouk University, Mo'tah University and Al Hashymieh University. Winners also receive incentives from the Ministry of Education which enable the employees to move up in ranking and sal