Wednesday, June 15, 2011
Her Majesty Queen Rania Al Abdullah launches the first phase of the Rehabilitation of Kindergartens Project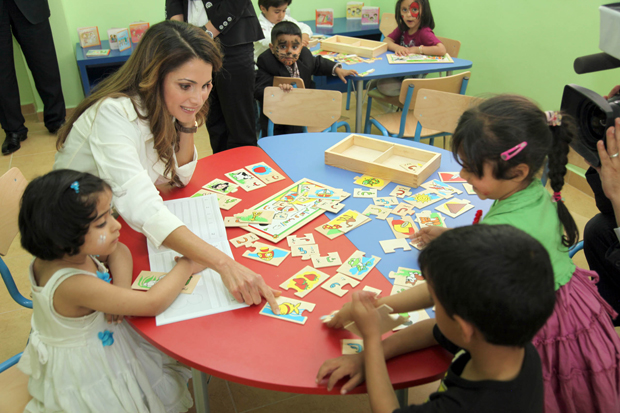 (Office of Her Majesty, Press Department- Amman) - Her Majesty Queen Rania Al Abdullah visited Al Theheibeh Al Gharbieh Secondary School for Girls' Kindergarten in Mwagar today on the occasion of the launch of the Rehabilitation of Kindergartens Project. The Project, implemented by the Zaha Cultural Center in coordination with the Ministry of Education and funded by the Ministry of Planning and International Cooperation (MoPIC), aims to renovate kindergarten facilities across the kingdom.
Her Majesty was received by HE. Tayseer Nueimi, Minister of Education; Mrs. Zaha Mango, Head of Zaha Cultural Center Board of Trustees; Mr. Ammar Gharaibeh, Head of the Provisional Committee of the Greater Amman Municipality; Mrs. Majida Jbour, the School Principal and Mrs. Rania Sbeih, Manager of Zaha Cultural Center.
Her Majesty and the attendees watched a video about the improvements to the kindergarten, before being briefed by Mrs. Sbeih on the project and its future plans.
Queen Rania toured the renovated kindergarten, where she witnessed firsthand the changes that have been made to the facility. Along the way, Her Majesty chatted and sat with several kids who expressed their joy at meeting the Queen.
The kindergartens included in the project were chosen by the Ministry of Education based on two conditions, their preexistence and to be located in poverty pockets areas.
The Zaha Cultural Center will provide training for the KG's teac