Monday, March 14, 2011
Her Majesty Queen Rania Al Abdullah drops in on teachers training and computer lab programs at Madrasati Schools in Tafileh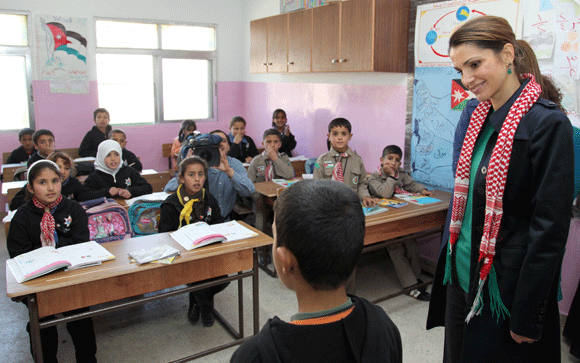 (Office of Her Majesty, Press Department- Tafileh) Her Majesty Queen Rania Al Abdullah visited Tafileh Governorate today to check on the work accomplished by Madrasati Initiative in three schools in the area. Part of the Madrasati Initiative third phase, the schools underwent renovation and refurbishment work, as well as the introduction to academic and extra-curricular activities implemented by the Initiative.
Her Majesty toured Al Qadisieh Secondary School for Girls first, making a stop at the computer lab which is the fruit of cooperation between Madrasati and the Jordan Education Initiative (JEI). Her Majesty, accompanied by Madrasati Director, Ms. Danah Dajani, was briefed by JEI Director, Haif Banayan about the progress of JEI's work in Madrasati Schools and the programs and equipment that they provided the schools. Meanwhile the students and teachers in the lab shared with the Queen the advantages of the IT training they're receiving and how they felt it better equipped them for the job market.
At the school's library Queen Rania attended a workshop conducted by a Madrasati volunteer on "the art of storytelling through photography". The Queen also looked at some of the students work in the Art Gallery, visited classrooms and the teachers' room.
At Fatima Al Zahraa Elementary School for Girls, Her Majesty was briefed on the programs and activities implemented by Madrasati in partnership with the Queen Rania Teachers Academy (QRTA). Beginning Her Tour in the Sports Hall, which Madrasati helped renovate, the Students briefed Her Majesty on how the school, with very limited sports equipment and tools, managed to participate in the King Abdullah Physical Fitness Award and won gold and silver medals.
In a Mathematics class, Her Majesty saw firsthand the new strategies and tools that are being implemented by the teacher based on skills acquired from QRTA training.
Her Majesty attended part of a session conducted by Madrasati, in coordination with volunteer Muna Awad, about the importance of strengthening the relationship and communication between mothers and daughters.
The Queen had a discussion with the students themselves about their ideas and hopes for their school. The students told Her Majesty about their experience participating in the Arts and creativity workshop with volunteers from Denmark. Her Majesty then accompanied the students to the school yard to witness the wall mural that resulted from the workshop.
Her Majesty also stopped by the Farwa Elementary Coed School where She inspected the structural and refurbishing work that took place in the school, and witnessed a sports activity conducted by a Madrasati community mobilizer and the physical education teacher highlighting the Madrasati Sports for Development Program.
Her Majesty launched the Madrasati Phase III in April 2010, and it includes 96 schools in the South of kingdom; including Tafileh, Karak, Ma'an and Aqaba.
Programs are implemented in Madrasati school are run by the initiative's partners: JEI, QRTA, Royal Health Awareness Society, Jordan River Foundation Safe Schools program, UNICEF, and the Global Education for Sports' (GES) Sports for Development program.