Monday, April 2, 2012
Her Majesty Queen Rania Al Abdullah and First Lady of Italy visit JRF Showroom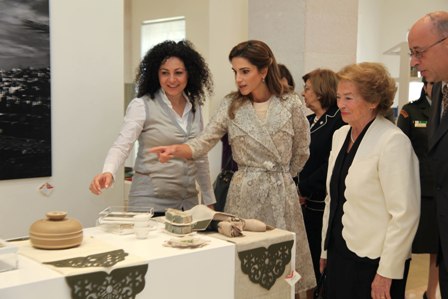 Her Majesty Queen Rania Al Abdullah and Mrs. Clio Napolitano, wife of H.E. Giorgio Napolitano, President of the Italian Republic, paid a visit to the Jordan River Foundation (JRF) Showroom in Amman today. Mrs. Napolitano is accompanying her husband, on a state visit to Jordan.
Her Majesty and First Lady Napolitano toured the showroom and looked at the different products that JRF produces in cooperation with local communities across the kingdom.
The products are the result of income generating projects that aim to empower women in different parts of Jordan by increasing their income thus improving the standards of living in their communities.